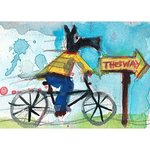 Dorrie Rifkin Watercolors
About Dorrie Rifkin Watercolors
An Englewood, NJ, resident, Dorrie Rifkin paints from her passions.
Thirty years' experience as an award-winning art director ignited and
cemented a life-long love affair with typography. Her other passions --
music, New York City, and family – are palpable in her work.
Every painting has a personal story.
"I'm lucky to live near the City, and spend a lot of time there,"
Rifkin says. "Usually, I bring a camera or sketchbook.
Running out of things to paint would mean that I am not doing
much of anything with my life."
Her paintings have won more than 18 prizes, many in international
and national juried shows. She is a signature member of the
Transparent Watercolor Society of America, the Northeast Watercolor Society,
and the Baltimore Watercolor Society.
Dorrie's work has been selected for both Splash 14: Light and Color and
Splash 15: Creative Solutions (North Light Books, out summer 2013 and
summer 2014, respectively). She was profiled in Watercolor Artist magazine's
December 2010 "Ones to Watch" feature.
Ranging in size from 20"x 30" to 7"x 7", Dorrie's paintings are in several
private collections in the U.S. and Europe. Her NYC/NJ-themed prints adorned sets
and locations on NBC's Prime Suspect TV series (2011). The cover art for Grand Central
Station's Connections, celebrating the terminal's winter 2011 centennial, was her iconic
painting of its interior. Collectible cards, comprising both miniatures of her larger paintings
and new original works, have begun to sell like hotcakes in better NYC department
stores and via the Internet.
To contact Dorrie or see her work --
e-mail: drifkin@dorrierifkin.com
web site:
www.dorrierifkin.com
etsy:
www.dfrdesign.etsy.com
tumblr:
www.dorrierifkin.tumblr.com
facebook: DorrieRifkinWatercolorArtist
Dorrie Rifkin Watercolors joined Society6 on May 22, 2012.