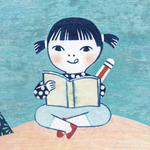 Diana Toledano
Hi there!
I'm Diana Toledano, an Spanish illustrator living in San Francisco.
I have a background in Art History and Education. I am inspired by books, music, art, kids and far away places.
If you want to know more about me, you can visit my website: http://diana-toledano.com
Thanks and have a good day!
Read more
Diana Toledano's Store
Filter