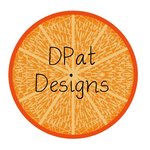 Dpat Designs
Hi there, Welcome to my shop! I am a designer-maker inspired by textures and surfaces and hope to bring this along with something unique to my products. I love illustrating and love to create new designs and art work! I hope my art work and products bring some beauty and delight to your lives! Also you can say hello at my twitter page! https://twitter.com/DPatDesigns Or see more of what I am inspired by at http://www.pinterest.com/dpatdesigns Thanks for visiting! Dpat Designs joined Society6 on November 7, 2014
More
Hi there, Welcome to my shop!
I am a designer-maker inspired by textures and surfaces and hope to bring this along with something unique to my products. I love illustrating and love to create new designs and art work!
I hope my art work and products bring some beauty and delight to your lives!
Also you can say hello at my twitter page! https://twitter.com/DPatDesigns
Or see more of what I am inspired by at http://www.pinterest.com/dpatdesigns
Thanks for visiting!
Dpat Designs joined Society6 on November 7, 2014.