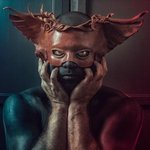 dracorubio
I'm an image creator and storyteller by heart, no matter what the discipline is. My work varies from photography, photo manipulation, illustration, but also have a hand in ceramics, sculpture and painting. I draw inspiration from various sources like books, movies, sculptures, music, mythology, fantasy, history, people, nature and whatever I find on my path.. My images are always processed to tell a story and to provoke an emotion. dracorubio joined Society6 on October 21, 2010
More
I'm an image creator and storyteller by heart, no matter what the discipline is. My work varies from photography, photo manipulation, illustration, but also have a hand in ceramics, sculpture and painting. I draw inspiration from various sources like books, movies, sculptures, music, mythology, fantasy, history, people, nature and whatever I find on my path..
My images are always processed to tell a story and to provoke an emotion.
dracorubio joined Society6 on October 21, 2010.
Bags by dracorubio
7 result
Filter