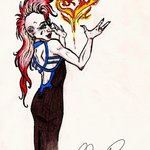 Dragging Anchor Art
Dragging Anchor Art is the work of Micaela "Chewie" Baca. While she is not a professional artist or designer, she enjoys drawing and creating in her free time. Chewie has volunteered to design and paint murals and her work may be seen at a playground in Anacortes, WA, at a private boarding school in Staunton, VA, and at the United States Coast Guard Academy in New London, CT. On that note, it should be mentioned that the works of art related to the Coast Guard or the military are not for profit. The price of any such piece reflects only the price of production and shipping. Support the troops. Dragging Anchor Art joined Society6 on August 15, 2013
More
Dragging Anchor Art is the work of Micaela "Chewie" Baca. While she is not a professional artist or designer, she enjoys drawing and creating in her free time. Chewie has volunteered to design and paint murals and her work may be seen at a playground in Anacortes, WA, at a private boarding school in Staunton, VA, and at the United States Coast Guard Academy in New London, CT.
On that note, it should be mentioned that the works of art related to the Coast Guard or the military are not for profit. The price of any such piece reflects only the price of production and shipping.
Support the troops.
Dragging Anchor Art joined Society6 on August 15, 2013.