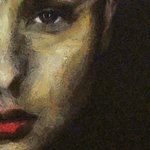 Dragica Micki Fortuna
Born in Ljubljana, Slovenia. After retirement, attended lectures at the Academy of fine arts and design in Ljubljana, and attended the advanced courses in drawing and painting. In the paintings reflects an optimist by nature and leon by horoscope. "Art and music are to my soul, as food and water are to my body." Dragica Micki Fortuna joined Society6 on February 18, 2014
More
Born in Ljubljana, Slovenia. After retirement, attended lectures at the Academy of fine arts and design in Ljubljana, and attended the advanced courses in drawing and painting. In the paintings reflects an optimist by nature and leon by horoscope.
"Art and music are to my soul, as food and water are to my body."
Dragica Micki Fortuna joined Society6 on February 18, 2014.