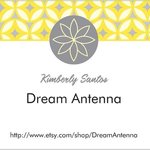 Dream Antenna
https://dreamantenna.squarespace.com www.etsy.com/shop/dreamantenna You're probably saying hmmmm Dream Antenna that's nice but what the heck does it mean?!? Now as an adult I say many phrases to my husband and he looks at me like I am a looney and my reply is always the same, "Wait, didn't you call it that when you were a kid?!?" and he always says "Noooo" with laughter trailing behind. So I have come to the realization that many phrases that don't exist in others childhood come from my very funny and creative father and Dream Antenna is one of them! There are step by step instructions that go along with Dream Antenna so get ready to follow along! This is something you do when you are trying to fall asleep so laying in bed is the ideal place: Step 1. Stick both arms straight out. Step 2. Begin to alternately wiggle your arms. Step 3. In a singing voice say "Dream Antennaaaaaaa" And just as I did as a child...... Step 4. Believe that your arms wiggling back and forth are the Antennas for your Dreams! Dream Antenna joined Society6 on March 14, 2014
More
https://dreamantenna.squarespace.com www.etsy.com/shop/dreamantenna
You're probably saying hmmmm Dream Antenna that's nice but what the heck does it mean?!?
Now as an adult I say many phrases to my husband and he looks at me like I am a looney and my reply is always the same, "Wait, didn't you call it that when you were a kid?!?" and he always says "Noooo" with laughter trailing behind. So I have come to the realization that many phrases that don't exist in others childhood come from my very funny and creative father and Dream Antenna is one of them! There are step by step instructions that go along with Dream Antenna so get ready to follow along!
This is something you do when you are trying to fall asleep so laying in bed is the ideal place:
Step 1. Stick both arms straight out.
Step 2. Begin to alternately wiggle your arms.
Step 3. In a singing voice say "Dream Antennaaaaaaa"
And just as I did as a child......

Step 4. Believe that your arms wiggling back and forth are the Antennas for your Dreams!
Dream Antenna joined Society6 on March 14, 2014.
Dream Antenna's Store
8 results
Filter