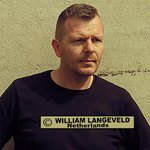 William Langeveld
Hi, My name is William Langeveld. I am a Photographer who studied Fashion and Portret Photography at the Fotovakschool in the Netherlands. We, and by that i mean myself and my wife Lotte who is the hairdresser and makeup artist, love to create high quality portret, fashion and fetish images. Our studio is in Groesbeek Netherlands If you are interested in a Photoshoot or have another question, Please do not hesitate and contact us. Email: info@williamlangeveld.nl With friendly regards. William and Lotte ** All images are copyrighted ** William Langeveld joined Society6 on March 21, 2014
More
Hi,
My name is William Langeveld.
I am a Photographer who studied Fashion and Portret Photography at the Fotovakschool in the Netherlands.
We, and by that i mean myself and my wife Lotte who is the hairdresser and makeup artist, love to create high quality portret, fashion and fetish images.
Our studio is in Groesbeek Netherlands
If you are interested in a Photoshoot or have another question, Please do not hesitate and contact us.
Email: info@williamlangeveld.nl
With friendly regards.
William and Lotte
** All images are copyrighted **
William Langeveld joined Society6 on March 21, 2014.