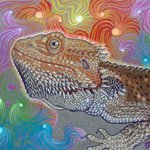 Angela DeRiso
I am a lifelong Florida native, and a specialist in colored pencil illustration. My work primarily focuses on reptiles/ amphibians and our connection to them. I blend fantasy elements and intense color to bring out the beauty and wisdom of many of these ancient creatures. Both wild species, and beloved pets are featured in my pieces. For more please visit angeladeriso.com Angela DeRiso joined Society6 on October 30, 2017
More
I am a lifelong Florida native, and a specialist in colored pencil illustration. My work primarily focuses on reptiles/ amphibians and our connection to them. I blend fantasy elements and intense color to bring out the beauty and wisdom of many of these ancient creatures. Both wild species, and beloved pets are featured in my pieces.
For more please visit angeladeriso.com
Angela DeRiso joined Society6 on October 30, 2017.