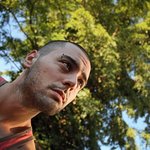 Juan Pablo Giusepponi
Camera: Canon EOS 7D Lens: EF-S 18-135mm IS USM External flash: Speedlite 430EX Mark II
He started at about 12, taking the camera as a perfect company, and the photographs he took since then were spontaneous captures of scenes and small images that surrounded and provoked him (into his own concepts of beauty and stillness). Today those photos represent a 'diary of initiation': they record the growth of his photographic eye and artistic sense, reflected in the imagery that surrounded him, over time.
So, since he began loving the sound of a shutter, Juan Pablo became interested in photographic technique and visual art in general, reading, watching great works every day and shooting while he had a camera.
Now, at 21 years and having started in Graphic Design and Psychology and always keeping an insatiable hunger for knowledge and art, Juan Pablo Giusepponi transforms his relationship with the camera: it's no longer a company, but a means. His artistic vision emphasizes the ambiguity of the message -he doesn't think of judgements- and is built every day and with every project; his shots are the denial of the Chaos to which his time leads him and since now, also, carriers of complex messages alienated from today.
Read more
Juan Pablo Giusepponi's Store
Filter