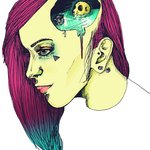 DRWRD
My name is Lisa and I'm 20 years old. I live actually in FRANCE. After spending two years in product design, I'm learning the art of woodworking. The illustration is my need to express myself. More of my art at: http://drwrd.tumblr.com/ http://facebook.com/asildrwrd Instagram at: drawordie DRWRD joined Society6 on April 29, 2014
More
My name is Lisa and I'm 20 years old. I live actually in FRANCE. After spending two years in product design, I'm learning the art of woodworking. The illustration is my need to express myself.
More of my art at: http://drwrd.tumblr.com/ http://facebook.com/asildrwrd Instagram at: drawordie
DRWRD joined Society6 on April 29, 2014.
DRWRD's Store
20 results
Filter