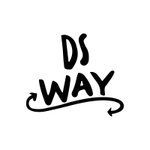 Ds WAY
Born artist, licensed designer & experimentalist at heart.
Born in 1981 in Lisbon, Portugal.
Grew up in the countryside, studied Arts in High School and graduated in Design by Lisbon's Architecture University in 2004, in the same year, moved to London and freelanced in agencies meanwhile collaborating with diverse artists and cultural projects, mostly developing art for print, digital and live settings.
I work with both analogue and digital techniques, often creating mixed media visuals while implementing them in different platforms. Keep an active interest in VJ, photography, illustration and crafts made with disused materials.
All commissions and special requests will be considered.
Read more