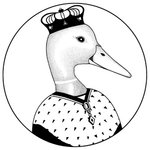 DUCKING
Ducking by Ronen Dachnevsky is a self-taught artist and graphic designer from Tel Aviv, Isreal. "To be creative means to be in love with life. You can be creative only if you love life enough that you want to enhance its beauty, you want to bring a little more music to it, a little more poetry to it, a little more dance to it." FB: https://www.facebook.com/rducking Instagram: https://www.instagram.com/rd_ducking DUCKING joined Society6 on July 31, 2016
More
Ducking by Ronen Dachnevsky is a self-taught artist and graphic designer from Tel Aviv, Isreal.
"To be creative means to be in love with life. You can be creative only if you love life enough that you want to enhance its beauty, you want to bring a little more music to it, a little more poetry to it, a little more dance to it."
FB: https://www.facebook.com/rducking Instagram: https://www.instagram.com/rd_ducking
DUCKING joined Society6 on July 31, 2016.