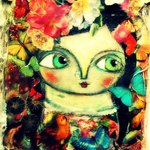 Dulcamara
I'm a musician and artist who loves creating things as well as ethereal worlds in music. My inspiration both in music and in art lies in my inner child world, Nature and the Sacred feminine . I love playing with many different media following the inspiration of the moment but everything I do keeps its whimsical and playful personality. Here you can find some stuff I make : http://ifollettidiboscofatato.blogspot.it (ooak creatures ,fairy houses , fantasy jewelry and handmade bookmarks) this is my little art blog http://dulcamaraslittleart.blogspot.it/ and if you're curious and want to listen to my music http://www.cdbaby.com/Artist/MusikaMagika http://musikamagika.blogspot.it www.facebook.com/MusikaMagika love, light and fun to you! Dulcamara joined Society6 on December 12, 2013
More
I'm a musician and artist who loves creating things as well as ethereal worlds in music. My inspiration both in music and in art lies in my inner child world, Nature and the Sacred feminine . I love playing with many different media following the inspiration of the moment but everything I do keeps its whimsical and playful personality.
Here you can find some stuff I make : http://ifollettidiboscofatato.blogspot.it (ooak creatures ,fairy houses , fantasy jewelry and handmade bookmarks)
this is my little art blog http://dulcamaraslittleart.blogspot.it/
and if you're curious and want to listen to my music
http://www.cdbaby.com/Artist/MusikaMagika http://musikamagika.blogspot.it www.facebook.com/MusikaMagika
love, light and fun to you!
Dulcamara joined Society6 on December 12, 2013.