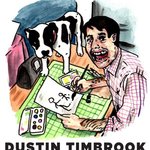 Dustin Timbrook
I'm an artist in Huntsville, Alabama. I paint, record music, make videos, and do whatever fun stuff I can think up. I have a public art studio at Lowe Mill Arts and Entertainment, and a black and white pitbull named Betty. www.DustinTimbrook.com Dustin Timbrook joined Society6 on August 11, 2013
More
I'm an artist in Huntsville, Alabama. I paint, record music, make videos, and do whatever fun stuff I can think up. I have a public art studio at Lowe Mill Arts and Entertainment, and a black and white pitbull named Betty.
www.DustinTimbrook.com
Dustin Timbrook joined Society6 on August 11, 2013.