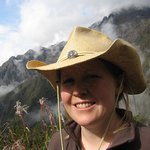 Dusty Pony Design
I'm a surface designer with an illustration and love pattern & textures. I am constantly photographing different natural textures, plants and colors to use in my designs. Animals frequently show up in my work as well. Photoshop and illustrator are my go-to programs for creating new work. I design mostly for apparel, women's wear, children and home goods. www.dustyponydesign.com www.dustyponyprintables.etsy.com https://www.pinterest.com/dustypony/ Dusty Pony Design joined Society6 on October 13, 2014
More
I'm a surface designer with an illustration and love pattern & textures. I am constantly photographing different natural textures, plants and colors to use in my designs. Animals frequently show up in my work as well. Photoshop and illustrator are my go-to programs for creating new work. I design mostly for apparel, women's wear, children and home goods.
www.dustyponydesign.com www.dustyponyprintables.etsy.com https://www.pinterest.com/dustypony/
Dusty Pony Design joined Society6 on October 13, 2014.