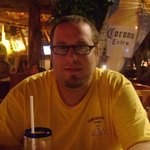 DWoods Artwork
Thanks for checking out my artwork and shit - if you like it, you are probably an awesome human being. I'm Donovan Woods, an aspiring semi-pro artist and full time software test engineer. I mostly make paintings and sketches, and I do custom, made-to-order work too, so HMU via email at okcsportsart@gmail.com. I can pretty much duplicate any 2D image into a kick-ass painting or sketched work for you. Other than that, check out what I have on here. Hopefully it doesn't suck! You can also see more of my artwork on Facebook at facebook.com/dwartwork or visit my lame website at https://sites.google.com/site/okcsportsartwork/ DWoods Artwork joined Society6 on December 4, 2013
More
Thanks for checking out my artwork and shit - if you like it, you are probably an awesome human being. I'm Donovan Woods, an aspiring semi-pro artist and full time software test engineer. I mostly make paintings and sketches, and I do custom, made-to-order work too, so HMU via email at okcsportsart@gmail.com. I can pretty much duplicate any 2D image into a kick-ass painting or sketched work for you. Other than that, check out what I have on here. Hopefully it doesn't suck!
You can also see more of my artwork on Facebook at facebook.com/dwartwork or visit my lame website at https://sites.google.com/site/okcsportsartwork/
DWoods Artwork joined Society6 on December 4, 2013.
DWoods Artwork's Store
49 results
Filter