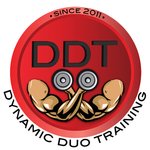 Dynamic Duo Training
Chris and Eric Martinez, co-founders of Dynamic Duo Training, are certified sports nutritionists, certified personal trainers, and certified strength and conditioning coaches. Chris and Eric provide safe, ethical, health-first, and research based practices to their clients. Chris and Eric are coach's that practice what they preach and love helping people reach their goals.
Our mission here at Dynamic Duo Training is to provide world class services with safe, ethical, scientific, and healthy approaches. We pride ourselves by helping our clients reach their full potential health wise. Our integrity is what sets us apart from others in the industry. Dynamic Duo Training is all about providing optimal results at a world class level for each client.
Read more
Dynamic Duo Training's Store
Filter