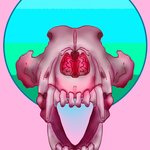 earthboundsatyr
I'm a mom and a wife, and I get to paint and craft when I find the time. Whatever I'm working on will be posted here as it's finished. I don't have as much time as I used to for art, but I'll update this account whenever I can. I paint and draw digitally with Photoshop CS4 and a WACOM INTUOS tablet. Most of my art is titled after whatever I was listening to when I was painting it. earthboundsatyr joined Society6 on December 14, 2012
More
I'm a mom and a wife, and I get to paint and craft when I find the time. Whatever I'm working on will be posted here as it's finished. I don't have as much time as I used to for art, but I'll update this account whenever I can.
I paint and draw digitally with Photoshop CS4 and a WACOM INTUOS tablet. Most of my art is titled after whatever I was listening to when I was painting it.
earthboundsatyr joined Society6 on December 14, 2012.