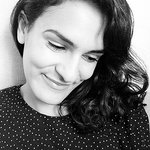 Earthlightened
I'm a french architect and a self taught graphic artist. my blog : http://earthlightened.tumblr.com Thanks for visiting ! Thank you so much if you buy something with one of my designs!!!! It means the world for me. Don't hesitate to share a photo with me via Instagram or twitter ;) use the tag #earthlightened Instagram : http://instagram.com/earthlightened Twitter : https://twitter.com/earthlightened Earthlightened joined Society6 on October 14, 2014
More
I'm a french architect and a self taught graphic artist. my blog : http://earthlightened.tumblr.com
Thanks for visiting !
Thank you so much if you buy something with one of my designs!!!! It means the world for me. Don't hesitate to share a photo with me via Instagram or twitter ;) use the tag #earthlightened Instagram : http://instagram.com/earthlightened Twitter : https://twitter.com/earthlightened
Earthlightened joined Society6 on October 14, 2014.