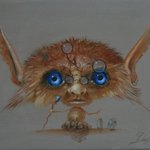 Ed Schaap
My name is Ed Schaap and was born in Sittard, Limburg, in 1965. As a child I had already shown a penchant for fantasy and science fiction films and series that where at that time on the television. Especially at a time when films like Star Wars and Alien in premiere came, I was fascinated by the unknown world, and I got carried away in it.
As for the art I make, it must say that I was influenced and inspired by certain artists and concept artists, but in the course of time I have found my own way . The works I create are generally subjects from the history, myths and legends, but also the things of everyday life. I give it my own vision.
The technique at the beginning that I used was airbrush. At a certain moment I started to miss a few things in my work. By experimenting with a combination of a brush and airbrush, I learned that the scenic effect of working with the brush was the missing element in my work. Whit these two components together in my recent work I find the result satisfactory.
Despite this result, I am also begun to paint in oils. Here a completely new world opened for me, just to name one example, the colors obtained with oil paint are almost impossible to make with acrylic paint.
I have also been making digital illustrations, works created using a computer. I make this "from scratch" which means that you build a illustration completely from beginning to end from scratch, the same as a blank sheet of paper or canvas where you start sketching.
Read more