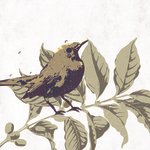 eduardo vargas
Graphic and printmaking artist living in Puerto Rico. He works daily as a Graphic Designer producing posters, logos and promotions covering a diversity of cultural manifestations. At night he works in his very small studio, designing, hand carving, and printing by hand or with his very cool etching press small series of various themes. His approach to design and printmaking is to balance traditional techniques with modern views on procedures and materials with experimental aesthetics. Much of his inspiration comes from the vivid Caribbean landscape and it's cultural manifestations, his fascination for Pop culture and awareness of social issues. All of the works are made with oil based inks, watercolor or other absorbent papers and acid-free materials. Original art is carved on wood panels by hand with woodcarving knives. eduardo vargas joined Society6 on January 30, 2012
More
Graphic and printmaking artist living in Puerto Rico. He works daily as a Graphic Designer producing posters, logos and promotions covering a diversity of cultural manifestations. At night he works in his very small studio, designing, hand carving, and printing by hand or with his very cool etching press small series of various themes.
His approach to design and printmaking is to balance traditional techniques with modern views on procedures and materials with experimental aesthetics. Much of his inspiration comes from the vivid Caribbean landscape and it's cultural manifestations, his fascination for Pop culture and awareness of social issues.
All of the works are made with oil based inks, watercolor or other absorbent papers and acid-free materials. Original art is carved on wood panels by hand with woodcarving knives.
eduardo vargas joined Society6 on January 30, 2012.