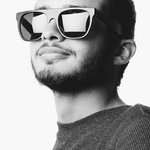 EDWIN ANTONIO
***CANVAS PRINTS INCLUDE AUTHENTICITY CERTIFICATE If you buy one please write at Info@edwinantonionyc.com – Edwin Antonio is a 24 year old Puerto Rican Fine Art Photographer and Graphic Artist based in New York. His work has been seen in Telegraph Fashion Magazine, Vogue China, Imagen Magazine and has made Collaborations with Alberta Ferretti, Elie Saab, Loewe, Acne Studios, Stella McCartney, Versace, among others. Description of the projects: "I want to create a color contrast between the garment and particular paintings from the past centuries. It also presents how these pieces would look in diverse fractions of time during the past eras . Depicting how fashion evolves and looks different yet timeless when presented in various paintings from various centuries. It is a synergy between a photo, painting and a piece of fashion." "Among the future" is a style of two times contrast, Modern and Antigue using art from 16th to 19th century. Figures like the ones of my favorite painting of Lucrecia are combined with pieces of clothing from fashion houses such as Loewe by Jonathan Anderson, Louis Vuitton by Nicolas Ghesquière, Calvin Klein Collection by Francisco Costa. In this photo series Edwin wants to show how futuristic art from past centuries can look. EDWIN ANTONIO joined Society6 on November 25, 2016
More
***CANVAS PRINTS INCLUDE AUTHENTICITY CERTIFICATE If you buy one please write at Info@edwinantonionyc.com – Edwin Antonio is a 24 year old Puerto Rican Fine Art Photographer and Graphic Artist based in New York. His work has been seen in Telegraph Fashion Magazine, Vogue China, Imagen Magazine and has made Collaborations with Alberta Ferretti, Elie Saab, Loewe, Acne Studios, Stella McCartney, Versace, among others.
Description of the projects: "I want to create a color contrast between the garment and particular paintings from the past centuries. It also presents how these pieces would look in diverse fractions of time during the past eras . Depicting how fashion evolves and looks different yet timeless when presented in various paintings from various centuries. It is a synergy between a photo, painting and a piece of fashion."
"Among the future" is a style of two times contrast, Modern and Antigue using art from 16th to 19th century. Figures like the ones of my favorite painting of Lucrecia are combined with pieces of clothing from fashion houses such as Loewe by Jonathan Anderson, Louis Vuitton by Nicolas Ghesquière, Calvin Klein Collection by Francisco Costa. In this photo series Edwin wants to show how futuristic art from past centuries can look.
EDWIN ANTONIO joined Society6 on November 25, 2016.