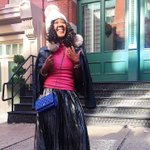 effie's paper
Our products reflect our belief that the future is female and is being shaped by the power of Black Girl Magic!
Kalyn Johnson Chandler, lifestyle guru and co-author of The BAP Handbook: The Official Guide to The Black American Princess, is the driving force behind Effie's Paper.
To learn more about Effie's Paper go to our website, www.effiespaper.com. And be sure to follow us on Instagram @effiespaper.
Read more
effie's paper's Store
Filter