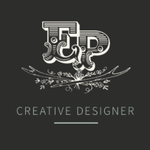 E. Phillips - Creative Designer
Hello! I'm Erin. I am a graphic designer + mom of two crazy pups. I love typography and grid layouts, clouds & mountains. I hope you like what you see! Please let me know what you like, don't like and what you'd like to see more of! Constructive criticism is one of the things most useful to me! If you happen to buy one of my pieces, please tag me on instagram (@eephillips_) or on twitter (@ephillipsdesign) - you can also use the hashtag #egdesignshop! Thanks!! E. Phillips - Creative Designer joined Society6 on August 26, 2014
More
Hello! I'm Erin. I am a graphic designer + mom of two crazy pups. I love typography and grid layouts, clouds & mountains.
I hope you like what you see! Please let me know what you like, don't like and what you'd like to see more of! Constructive criticism is one of the things most useful to me!
If you happen to buy one of my pieces, please tag me on instagram (@eephillips_) or on twitter (@ephillipsdesign) - you can also use the hashtag #egdesignshop!
Thanks!!
E. Phillips - Creative Designer joined Society6 on August 26, 2014.
E. Phillips - Creative Designer's Store
43 results
Filter