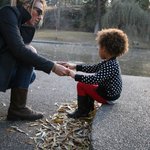 ekthompson
An experienced Stylist and Artist with over ten years of experience. She double majored with bachelor degrees in Apparel Design as well as Business Management. Elizabeth has a unique background in that she was a merchandiser and studio manager for an ecommerce retail company, this experience has allowed her to understand various requirements to fulfil as a stylist. Her style is a reflection of her personal vision and design capabilities that she has been practicing throughout life. While she currently is a Stylist her career in design began as a young artist studying painting, furniture design and architecture. Her influences and talented abilities allow her to be a versatile Stylist who is able to accomplish dynamic imagery and art. ekthompson joined Society6 on February 20, 2014
More
An experienced Stylist and Artist with over ten years of experience. She double majored with bachelor degrees in Apparel Design as well as Business Management. Elizabeth has a unique background in that she was a merchandiser and studio manager for an ecommerce retail company, this experience has allowed her to understand various requirements to fulfil as a stylist. Her style is a reflection of her personal vision and design capabilities that she has been practicing throughout life.
While she currently is a Stylist her career in design began as a young artist studying painting, furniture design and architecture. Her influences and talented abilities allow her to be a versatile Stylist who is able to accomplish dynamic imagery and art.
ekthompson joined Society6 on February 20, 2014.
ekthompson's Store
26 results
Filter