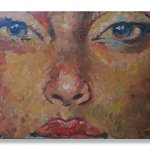 El Bahr Studio
El Bahr Studio is a collaboration of professional artists providing quality artwork, education and ideas for corporate, government, educational institutions and private clients. We aim to bring the pleasure of art to everyone to experience, use or to own. We continue to enjoy great success with our philosophy of encouraging the creative mind with an energetic and innovative approach to art. We specialize in caricature, illustration, design, art tutoring, art workshops, personal art tutoring, photography and caricature entertainment. Whatever your artistic needs contact El Bahr Studio. El Bahr Studio joined Society6 on February 11, 2015
More
El Bahr Studio is a collaboration of professional artists providing quality artwork, education and ideas for corporate, government, educational institutions and private clients. We aim to bring the pleasure of art to everyone to experience, use or to own. We continue to enjoy great success with our philosophy of encouraging the creative mind with an energetic and innovative approach to art.
We specialize in caricature, illustration, design, art tutoring, art workshops, personal art tutoring, photography and caricature entertainment.
Whatever your artistic needs contact El Bahr Studio.
El Bahr Studio joined Society6 on February 11, 2015.
El Bahr Studio's Store
30 results
Filter