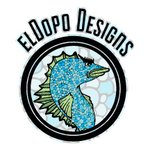 elDopo Designs
Hi there! Welcome to elDopo Designs! I started this shop in order to transfer some of the strange and downright creepy ideas that reside in my mind to a format slightly more suitable. My Society6 page will allow you to view some of my more t-shirt friendly designs as well as some more limited/variant prints (even pre-framed if you like!). If you'd like to view more of my prints/poster designs please visit my ETSY store: www.eldopodesigns.etsy.com OR visit my Artist fanpage on Facebook: https://www.facebook.com/eldopodesigns elDopo Designs joined Society6 on February 20, 2014
More
Hi there! Welcome to elDopo Designs! I started this shop in order to transfer some of the strange and downright creepy ideas that reside in my mind to a format slightly more suitable. My Society6 page will allow you to view some of my more t-shirt friendly designs as well as some more limited/variant prints (even pre-framed if you like!).
If you'd like to view more of my prints/poster designs please visit my ETSY store: www.eldopodesigns.etsy.com
OR visit my Artist fanpage on Facebook: https://www.facebook.com/eldopodesigns
elDopo Designs joined Society6 on February 20, 2014.
elDopo Designs's Store
48 results
Filter