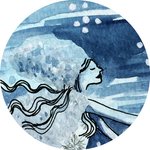 Dreamy Me
Find out more about me at http://dreamyme.com/ I'm interested in how far drawing can go with little. How very simple marks define space and light so effectively. I've got like two sort of styles, a minimalist one with bold colour and shapes and a busy one full of lines and detail. I like watercolour and ink because of their beautiful luminosity -always trying to capture light in space, always in a playful, unpretentious (I hope) way. Etsy shop https://www.etsy.com/uk/shop/DreamyMeisme DenyDesigns collection https://www.denydesigns.com/collections/artist/ar:elena-blanco Twitter https://twitter.com/dreamymeisme Facebook https://www.facebook.com/dreamymeisme/ Istagram https://www.instagram.com/dreamymeisme Pinterest https://uk.pinterest.com/dreamymeisme/ Dreamy Me joined Society6 on September 10, 2013
More
Find out more about me at http://dreamyme.com/ I'm interested in how far drawing can go with little. How very simple marks define space and light so effectively. I've got like two sort of styles, a minimalist one with bold colour and shapes and a busy one full of lines and detail. I like watercolour and ink because of their beautiful luminosity -always trying to capture light in space, always in a playful, unpretentious (I hope) way.
Etsy shop https://www.etsy.com/uk/shop/DreamyMeisme DenyDesigns collection https://www.denydesigns.com/collections/artist/ar:elena-blanco Twitter https://twitter.com/dreamymeisme Facebook https://www.facebook.com/dreamymeisme/ Istagram https://www.instagram.com/dreamymeisme Pinterest https://uk.pinterest.com/dreamymeisme/
Dreamy Me joined Society6 on September 10, 2013.