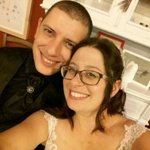 Elena Casiglio
Hi, I'm an artist from Italy. I create portraits of animals in many tecniques (pastels, colored pencils, gouaches,....) and as an hobby I take shoots of nature and animals. This is my shop and I hope you like it! You can find me also on Facebook: https://www.facebook.com/PetPortraitsElenaCasiglio/ on Instagram: https://www.instagram.com/diariodibordo.elena/ or on my personal website: https://elenapetsportraits.wordpress.com/ Elena Casiglio joined Society6 on October 3, 2017
More
Hi, I'm an artist from Italy. I create portraits of animals in many tecniques (pastels, colored pencils, gouaches,....) and as an hobby I take shoots of nature and animals. This is my shop and I hope you like it!
You can find me also on Facebook: https://www.facebook.com/PetPortraitsElenaCasiglio/ on Instagram: https://www.instagram.com/diariodibordo.elena/ or on my personal website: https://elenapetsportraits.wordpress.com/
Elena Casiglio joined Society6 on October 3, 2017.
Carry All Pouches by Elena Casiglio
14 results
Filter