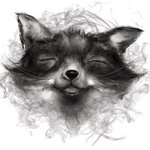 ElenaLam
Elena Lam is a illustrator and aspiring animator working in 2D & 3D mediums whether created traditionally or digitally. She emulates different visual styles in her work from cheeky illustrations of colourful cartoon characters to wood panels of the Chinese Zodiac. She particularly enjoys painting digitally in a monochromatic palette with smokey textures to create ethereal and otherworldly animal portraits. ElenaLam joined Society6 on January 2, 2017
More
Elena Lam is a illustrator and aspiring animator working in 2D & 3D mediums whether created traditionally or digitally.
She emulates different visual styles in her work from cheeky illustrations of colourful cartoon characters to wood panels of the Chinese Zodiac. She particularly enjoys painting digitally in a monochromatic palette with smokey textures to create ethereal and otherworldly animal portraits.
ElenaLam joined Society6 on January 2, 2017.