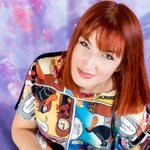 Elena Zaharia
My art is a tender dance between colors and forms, I paint with the feeling to create an emotional, and spiritual well being. "…Don't try to present your art by making other people read or hear or see or touch it; make them feel it. Wear your art like your heart on your sleeve and keep it alive by making people feel a little better. Feel a little lighter. Create art in order for yourself to become yourself and let your very existence be your song, your poem, your story." Elena Zaharia joined Society6 on June 29, 2016
More
My art is a tender dance between colors and forms, I paint with the feeling to create an emotional, and spiritual well being.
"…Don't try to present your art by making other people read or hear or see or touch it; make them feel it. Wear your art like your heart on your sleeve and keep it alive by making people feel a little better. Feel a little lighter. Create art in order for yourself to become yourself and let your very existence be your song, your poem, your story."
Elena Zaharia joined Society6 on June 29, 2016.