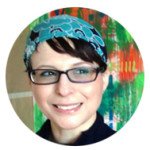 Eleonora Spagnuolo
I am Eleonora, an italian artist and designer. Born and raised in the Eternal City, I now live in Amsterdam, Netherlands. In love with Amsterdam since the first time I visited it in far 2004, I finally managed to settle here in a room with a view – of a canal. I share my life with my husband, my son, two very old dogs and an handful of good friends. I started painting at an early age, at three years old with a red lipstick on my grandmother's walls. I was so proud of my artwork, nobody felt like telling me anything about the disaster, so I kept drawing, painting and writing everywhere. Creative, just a bit crazy, enthusiastic, wholehearted and committed, I am famous for thinking even a bit too much out of the box. I usually have lots of projects open at the same time, that is not sane at all but I can't avoid that. I am a full time creative being, I love paiting and drawing, and I find my inspiration in nature, people, books… And in good italian coffee, of course! Eleonora Spagnuolo joined Society6 on October 9, 2013
More
I am Eleonora, an italian artist and designer.
Born and raised in the Eternal City, I now live in Amsterdam, Netherlands.
In love with Amsterdam since the first time I visited it in far 2004, I finally managed to settle here in a room with a view – of a canal. I share my life with my husband, my son, two very old dogs and an handful of good friends.
I started painting at an early age, at three years old with a red lipstick on my grandmother's walls. I was so proud of my artwork, nobody felt like telling me anything about the disaster, so I kept drawing, painting and writing everywhere.
Creative, just a bit crazy, enthusiastic, wholehearted and committed, I am famous for thinking even a bit too much out of the box.
I usually have lots of projects open at the same time, that is not sane at all but I can't avoid that. I am a full time creative being, I love paiting and drawing, and I find my inspiration in nature, people, books… And in good italian coffee, of course!
Eleonora Spagnuolo joined Society6 on October 9, 2013.