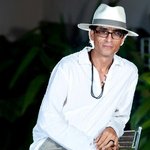 Eliel Freitas Jr
Eliel. Nascido no ano que não terminou (68) no interior da Bahia (Itapetinga). A fotografia sempre foi uma paixão, alimentanda desde criança... Ficou quieto com as digitais automáticas até Dezembro de 08, quando, resolveu dar vasão à paixão antiga, agora alimentando pela presença frequente no flickr, comprando sua primeira DLSR (Sony A 100). Desde então vem experimentando linguagens, olhares, perspectivas, na busca por um caminho na arte de escrever com a luz.
Sócio do Coletivo Morena Foto
Eliel, nacido en 68, en el año que "no terminó" ahora viviendo en Remanso (Bahia - Brasil). De formación soy Ing. Agronomo pero siempre trabajando con campesinos en procesos de desarrollo local, con asesoría organizativo y movilización de recursos. La fotografía es una pasión pura, desde niño. Hace cerca de dos años con una DLSR (Sony A 100) y intentando aprender para, quizás, alzar vuelos mayores.
Socio del Colectivo Morena Foto
Eliel, Born in the year that never ended (68) in Bahia (Itapetinga). The Photography has always been a passion since childhood ... Was quiet with automatic digital by December 2008, when solved giving a voice to old flame, now feeding the frequent presence in flickr buying your first DLSR (Sony A 100). Since then he has been experiencing languages, viewpoints, perspectives in the search for a path in the art of writing with light.
Associate of Morena Photo Collective
You can find me at:
Society6 | 500px | G+ | PhotoBlog | Cirandas | Collective | F ФОТО
Read more
Eliel Freitas Jr's Store
Filter