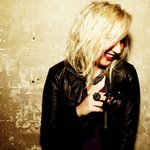 Eliesa Johnson
My name is Eliesa, and I am a photographer! I've been shooting for 12 years. Shooting in new locations is most inspiring to me. I have big goals and even bigger dreams. I own 4 brands. A major part of my business consists of editorial and commercial work, Eliesa Johnson Photography. I photograph wedding under Photogen Inc and own Rivets and Roses wedding photography studio. I also love teaching and offer workshops and consulting for photographers. My staff is filled with the most amazing people and artists. My favorite food is squash. My approach to being a photographer is simple, I like to have fun! Jay Z is my hero. http://www.eliesajohnson.com/ http://photogen-inc.com http://rivetsandroses.com/meet-the-team/ Eliesa Johnson joined Society6 on March 2, 2012
More
My name is Eliesa, and I am a photographer! I've been shooting for 12 years. Shooting in new locations is most inspiring to me. I have big goals and even bigger dreams. I own 4 brands. A major part of my business consists of editorial and commercial work, Eliesa Johnson Photography. I photograph wedding under Photogen Inc and own Rivets and Roses wedding photography studio. I also love teaching and offer workshops and consulting for photographers. My staff is filled with the most amazing people and artists. My favorite food is squash. My approach to being a photographer is simple, I like to have fun! Jay Z is my hero.
http://www.eliesajohnson.com/ http://photogen-inc.com http://rivetsandroses.com/meet-the-team/
Eliesa Johnson joined Society6 on March 2, 2012.
Pillows by Eliesa Johnson
66 results
Filter
Department

Dept

Pillows & Bedding