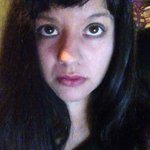 ElisaCastro
A brief equation that sums me up: music+ making art+ the wonderful boy+ the cat+ coffee&pizza= happy elisa Some long ramble about moi: */\_/\ (=~_~=) .•.¸¸.• .¸.•*•.¸.•¨) ¸.•?¨) .(")__(") (¸.•* (¸.•*¨?. I think this statement should speak for me, since I often say I live in my Imagination. "Imagination ... is more important than knowledge. Knowledge is limited. Imagination encircles the world." -Albert Einstein Also Living Life is Enlightenment! In stating that, I think we shouldn't hold back from the things we want in life. Often times fear gets in the way, and it paralyzes certain individuals. Really, you wont reach that person that you want to be- if you keep limiting yourself. So, I really feel strong, and motivated to do the things that I enjoy, and love, and force myself to even go after the things that I feel are not obtainable. It would be a horrid thing to live a life of regret later on in life. In the end all we are left with is our memories, meaning the experiences we had in life. So we should embrace ourselves and take joy in experiencing as much things as possible, regardless if they will end ill/or good. One can not stay frozen in time. I'm constantly changing, and that's something that people that know me are highly aware about. As I come to think of this about myself at a further, and deeper level. Since, I am always thinking, I've come to the realization that- in fact I haven't been changing. Nor have I become a new person. I am still the same person, I've just grown. I'm flourishing, and becoming a stronger and better person. In that said, I'm always rediscovering myself! Since I am not a settler of one mindset! ElisaCastro joined Society6 on July 24, 2013
More
A brief equation that sums me up:
music+ making art+ the wonderful boy+ the cat+ coffee&pizza= happy elisa
Some long ramble about moi:
/_/
(=~_~=) .•.¸¸.• .¸.••.¸.•¨) ¸.•?¨) .(")__(") (¸.•* (¸.•*¨?.
I think this statement should speak for me, since I often say I live in my Imagination. "Imagination ... is more important than knowledge. Knowledge is limited. Imagination encircles the world." -Albert Einstein
Also Living Life is Enlightenment! In stating that, I think we shouldn't hold back from the things we want in life. Often times fear gets in the way, and it paralyzes certain individuals. Really, you wont reach that person that you want to be- if you keep limiting yourself. So, I really feel strong, and motivated to do the things that I enjoy, and love, and force myself to even go after the things that I feel are not obtainable. It would be a horrid thing to live a life of regret later on in life.
In the end all we are left with is our memories, meaning the experiences we had in life. So we should embrace ourselves and take joy in experiencing as much things as possible, regardless if they will end ill/or good. One can not stay frozen in time.
I'm constantly changing, and that's something that people that know me are highly aware about. As I come to think of this about myself at a further, and deeper level. Since, I am always thinking, I've come to the realization that- in fact I haven't been changing. Nor have I become a new person. I am still the same person, I've just grown. I'm flourishing, and becoming a stronger and better person.
In that said, I'm always rediscovering myself! Since I am not a settler of one mindset!
ElisaCastro joined Society6 on July 24, 2013.
ElisaCastro's Store
14 results
Filter