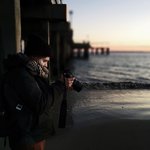 Elisa D. Padula
Ever since I picked up a camera in my first year of college, I couldn't put it down. Photography is my chosen addiction, and I use it as a tool to communicate what's really going on in my head. I love to read, travel, and learn new things. I am based out of New York City with my husband. Elisa D. Padula joined Society6 on November 9, 2014
More
Ever since I picked up a camera in my first year of college, I couldn't put it down. Photography is my chosen addiction, and I use it as a tool to communicate what's really going on in my head.
I love to read, travel, and learn new things. I am based out of New York City with my husband.
Elisa D. Padula joined Society6 on November 9, 2014.
Elisa D. Padula's Store
40 results
Filter