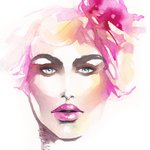 Elisaveta Stoilova
Hello, my name is Elisaveta Stoilova. Originally from Bulgaria, now residing in the United States.
Painting and drawing have been passions of mine since a very early age. I love the soft, organic feel and look of lead pencils, the unforgiving transparency of watercolor, the richness of acrylic, the solid yet light look of markers and the texture of charcoal... Being alone with a pencil and a blank sheet of paper is as intimidating as it is rewarding.
Having a degree in Fashion Design and working in photography has given me a very unique and personal perspective of what beauty is.
I hope you appreciate my artwork.
Thank you for visiting this page!
e
http://www.elisaveta.com https://www.facebook.com/pages/Elisaveta-Stoilova-Illustrations/239749846073169
Read more