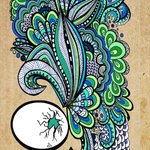 elissa iatridis
Hello! I'm a Scottsdale native who graduated from the University of San Diego in 2008. I love to paint, draw, doodle & mess around in Photoshop. Follow me to keep up with my work: ~ www.facebook.com/elissaiatridisart ~ www.society6.com/elissaiatridis Thank you and have a wonderful day! elissa iatridis joined Society6 on September 19, 2013
More
Hello! I'm a Scottsdale native who graduated from the University of San Diego in 2008. I love to paint, draw, doodle & mess around in Photoshop. Follow me to keep up with my work:
~ www.facebook.com/elissaiatridisart ~ www.society6.com/elissaiatridis
Thank you and have a wonderful day!
elissa iatridis joined Society6 on September 19, 2013.