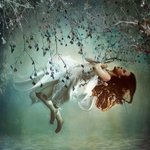 ELLEN
Ellen is a Vogue Italia contributor, Fine Artist and Worldwide Photographer based in Wicklow, Ireland. Originating as a portrait artist in 2008, Ellen's work has been exhibited internationally and featured in numerous media including Vogue Italia, Yahoo Blog front Page video interview. Beautiful.Bizarre Art Magazine, Gimp Magazine, Phlearn, Mocoloco. Seamless. LeCool etc. Ellen's work blurs the boundaries of art, photography and fashion. Exhibited by Clic Gallery Soho New York, Copperhouse Gallery, Open Window Gallery, Hibernian Gallery, Kilmantin Gallery and many more. Limited Edition Prints available on Saatchi Gallery, Open Window Gallery and Copperhouse Gallery. Image licensing available on Getty Images Commissions undertaken Ellen is on Canon Ireland's Guest Speaker List for their Conferences. Previous history Technical Engineer in the Field of Fiberoptic Business and Marketing Studies Ellen McDermott is an artist with a camera living and working in Wicklow, Ireland. She is represented by Clic Gallery Soho New York City, USA. and has her art in Copperhouse Gallery Dublin, Ireland & Kilmantin Art Gallery, Wicklow, Ebow Gallery and exhibited in the RHA Vue Art Fair under LB Fine Art Consultant. Ellen is a contributor to Vogue Italia. ELLEN joined Society6 on September 29, 2013
More
Ellen is a Vogue Italia contributor, Fine Artist and Worldwide Photographer based in Wicklow, Ireland.
Originating as a portrait artist in 2008, Ellen's work has been exhibited internationally and featured in numerous media including Vogue Italia, Yahoo Blog front Page video interview. Beautiful.Bizarre Art Magazine, Gimp Magazine, Phlearn, Mocoloco. Seamless. LeCool etc.
Ellen's work blurs the boundaries of art, photography and fashion. Exhibited by Clic Gallery Soho New York, Copperhouse Gallery, Open Window Gallery, Hibernian Gallery, Kilmantin Gallery and many more.
Limited Edition Prints available on Saatchi Gallery, Open Window Gallery and Copperhouse Gallery.
Image licensing available on Getty Images
Commissions undertaken
Ellen is on Canon Ireland's Guest Speaker List for their Conferences.
Previous history Technical Engineer in the Field of Fiberoptic
Business and Marketing Studies
Ellen McDermott is an artist with a camera living and working in Wicklow, Ireland. She is represented by Clic Gallery Soho New York City, USA. and has her art in Copperhouse Gallery Dublin, Ireland & Kilmantin Art Gallery, Wicklow, Ebow Gallery and exhibited in the RHA Vue Art Fair under LB Fine Art Consultant. Ellen is a contributor to Vogue Italia.
ELLEN joined Society6 on September 29, 2013.