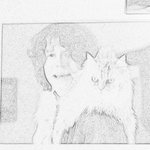 Ellen Turner
Drawing since the age of 4. My work has mainly focused on political issues of my time. I am one of a million artists out in the world. I hope my work sells somewhere, somehow. Art collections of my work: Brown University, Harvard. Have any questions or offers? email: ellen_trnr@yahoo.com http://www.redbubble.com/people/ekturner Ellen Turner joined Society6 on October 29, 2014
More
Drawing since the age of 4. My work has mainly focused on political issues of my time. I am one of a million artists out in the world. I hope my work sells somewhere, somehow. Art collections of my work: Brown University, Harvard.
Have any questions or offers? email: ellen_trnr@yahoo.com
http://www.redbubble.com/people/ekturner
Ellen Turner joined Society6 on October 29, 2014.