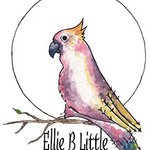 Ellie B Little
Ellie B Little is an online store run by Artist/Illustrator Niki Little (me). The name Ellie B Little is inspired by her daughter Elise Little. I specialize in watercolor and sketch pet portraits, but love to experiment with different subjects and special requests! To view all available artwork and products go to: www.ellieblittle.com Follow me on Facebook Ellieblittle Instagram @ellieblittle Ellie B Little joined Society6 on November 30, 2015
More
Ellie B Little is an online store run by Artist/Illustrator Niki Little (me). The name Ellie B Little is inspired by her daughter Elise Little. I specialize in watercolor and sketch pet portraits, but love to experiment with different subjects and special requests!
To view all available artwork and products go to: www.ellieblittle.com
Follow me on Facebook Ellieblittle Instagram @ellieblittle
Ellie B Little joined Society6 on November 30, 2015.