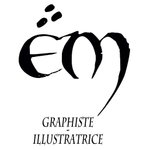 elodie marc
Hello ! My name is Elodie Marc and i am a French graphic-illustrator based in Paris. My work includes three styles: children's illustrations, digital paintings and fashion illustrations. You can find my work in my Etsy shop and my society6 shop.
I get my inspiration from all sorts of things: the stories and festivals of certain countries such as Diwali, the festival of lights and the Holi festival of colors in India, fashion shows or the known or imaginary jewels. From the stories and stories of my childhood to literature such as Alexandre Dumas and his Musketeers; the Odyssey and the Iliad of Homer; Euripides and its tragedies; the work of Zola ....
I mix several techniques such as watercolor, gouache, soft pastels. I add on top of my inspirations, glitter, sequins, or gold leaf ... The idea of ​​mixing several styles, several materials to create something new is what attracts me the most in the creation of a metamorphosis. Another technique I particularly enjoy is computer drawing: digital painting. This method allows me to focus on the smallest and smallest details of my drawings. This technique allows me to create environments that I imagined to be small: An enchanted forest or an old castle ... A market or a nonexistent architecture such as a palace, a labyrinth ... Fantastic characters ... Creatures that belong stories to write and stories to invent or even our own story ...
Best memory: My three months in India.
What I want to do next: Going back in India for six months.....or in Thailand.
My Website: www.elodiemarc.com
Social: https://www.instagram.com/marc.elodie/ https://www.facebook.com/eldoir/
Contact me: elodiemarc@ymail.com
Read more
elodie marc's Store
Filter