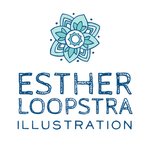 eloopstraillustration
I am an illustrator specializing in food and travel, hand-lettering, & surface design. My illustrations are an extension of my perpetual curiosity and radiate whimsy, dreaminess, and fluidity. My work has been used for print ads, editorials, books, stationery products, & textiles. Instagram: https://www.instagram.com/eloopstraillustration/ website: http://estherloopstra.com/ Newsletter: http://bit.ly/2ik47Fx eloopstraillustration joined Society6 on January 8, 2017
More
I am an illustrator specializing in food and travel, hand-lettering, & surface design. My illustrations are an extension of my perpetual curiosity and radiate whimsy, dreaminess, and fluidity. My work has been used for print ads, editorials, books, stationery products, & textiles.
Instagram: https://www.instagram.com/eloopstraillustration/
website: http://estherloopstra.com/
Newsletter: http://bit.ly/2ik47Fx
eloopstraillustration joined Society6 on January 8, 2017.