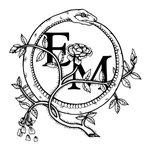 Elsbeth Mumm
Once upon a time there lived a little girl whose whole world took place in fairy tales. Fantastical creatures surrounded her and the dancing shadows of trees whispered whimsical stories that wove in her mind, blurring the lines between dream and reality. As Elsbeth grew up, this childhood world infused into her art. Elsbeth loves to create worlds and stories behind her art that are surreal, quirky, and darkly comedic; her background in film infuses her work with a spirit of theatricality and whimsy.
Elsbeth draws inspiration from natural science, wildlife, tall tales, fables, vivid dreams, mythology, oddities, travel, raucous celebrations, and well-designed spaces. She embraces a mindset of: if we look at the world through a child's perspective, all things remain magical, full of awe and wonderment.
---
Elsbeth Mumm is a child of California currently living in Santa Cruz with her husband in a tiny dream like apartment with the ocean and redwood forests as their playgrounds. She has a unicorn tattoo and desperately wants a puppy.
---
If you'd like to see more of my work or who I am, please visit me here: Website: http://www.iamelsbeth.com/ Instagram: http://instagram.com/elsmumm FB: https://www.facebook.com/iamelsbeth
Read more