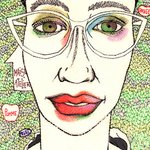 EmaDéeCréations
I am a French illustrator, author and artist books creator. I published two illustrated books, Extraits de filles (2013) and Peurs.Images & Textes (2014). Both are mainly inspirated by fanzines, graphic novels and books for children. It is possible to read few pages of my second book here : http://www.blurb.fr/b/5201726-peurs My artworks are influenced by Music, Cinema, Fine Arts, Graphic Art like Linocut and Comics, Nature and Women's life or daydreams. Each drawing is like a mysterious story. I write texts (articles, poems, short stories...) in a blog called Le Horlart (lehorlart.blogspot.fr). I create illustrations for them. I love drawing characters with ink, pen, marker or watercolor on paper, I like creating patterns for objets, clothes. EmaDéeCréations joined Society6 on November 26, 2016
More
I am a French illustrator, author and artist books creator.
I published two illustrated books, Extraits de filles (2013) and Peurs.Images & Textes (2014). Both are mainly inspirated by fanzines, graphic novels and books for children. It is possible to read few pages of my second book here : http://www.blurb.fr/b/5201726-peurs
My artworks are influenced by Music, Cinema, Fine Arts, Graphic Art like Linocut and Comics, Nature and Women's life or daydreams. Each drawing is like a mysterious story.
I write texts (articles, poems, short stories...) in a blog called Le Horlart (lehorlart.blogspot.fr). I create illustrations for them.
I love drawing characters with ink, pen, marker or watercolor on paper, I like creating patterns for objets, clothes.
EmaDéeCréations joined Society6 on November 26, 2016.