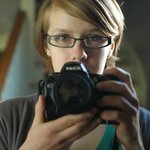 ema williamson
I'm just a university student with a camera. I take photographs for the same reason I'm an anthropology major: the desire to look carefully, to capture, to examine. In 2008 I received my first camera. It's been around my neck pretty frequently since then. I still have far to go. groundworkproject.blogspot.com www.etsy.com/shop/emawilliamson ema williamson joined Society6 on October 12, 2012
More
I'm just a university student with a camera.
I take photographs for the same reason I'm an anthropology major: the desire to look carefully, to capture, to examine. In 2008 I received my first camera. It's been around my neck pretty frequently since then. I still have far to go.
groundworkproject.blogspot.com www.etsy.com/shop/emawilliamson
ema williamson joined Society6 on October 12, 2012.
Framed Prints by ema williamson
25 results
Filter