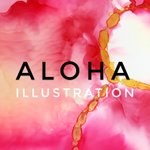 Aloha Illustrations
Emelie Wiklund is a watercolor and ink artist. Most of her work is focused on highlighting the beauty of this world. Landscape, nature, wildlife and animals is portrayed by Emelie's camera and paintbrushes. Emelie has a double bachelor's degree in Media Technology and Destination Development, but has also studied sustainable development, sustainable design, environmental science and geology. This clearly shows her fascination about ecological processes, plate tectonics, ecosystems, wildlife and above all, sustainable development. Aloha Illustrations joined Society6 on February 11, 2015
More
Emelie Wiklund is a watercolor and ink artist. Most of her work is focused on highlighting the beauty of this world. Landscape, nature, wildlife and animals is portrayed by Emelie's camera and paintbrushes.
Emelie has a double bachelor's degree in Media Technology and Destination Development, but has also studied sustainable development, sustainable design, environmental science and geology. This clearly shows her fascination about ecological processes, plate tectonics, ecosystems, wildlife and above all, sustainable development.
Aloha Illustrations joined Society6 on February 11, 2015.