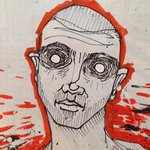 E Merlin Murray
An English-sounding Scotsman most at home in the Orient, E Merlin Murray is currently nestled in the frozen north of Europe with some Japanese brush pens and a big bottle of ink.
Having followed an unorthodox path, he has come to professional illustration fairly recently, via picture framing and piano teaching. He remains entirely self taught, but has been flinging ink at paper for his entire life, and comes from an artistic family.
When not drawing, Merlin plays Lego with his kids and keyboards in a traditional local reggae band.
He welcomes commissions for all types of illustration project, including album cover design / art; portrait work; advertising and publication.
You can contact him here: ed@merlinmurray.com
Read more
E Merlin Murray's Store
Filter