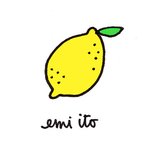 emi ito illustration
http://www.emiitoillustration.com
Emi Ito is an illustrator, dog lover, fun-seeker, and sandwich queen in Miami, Florida. She spent much of her childhood in Japan, and her work is influenced by her time in Japan and her Japanese heritage (Emi is half-Japanese).
Emi is welcomes freelancing and licensing opportunities. If you are interested, please contact her at emi.ito.illustration@gmail.com.
To see more of Emi's work, check out her portfolio (http://emiitoillustration.com/portfolio/), and follow her blog (http://emiitoillustration.com/)!
You can also follow her on Facebook, Instagram, Twitter, and Pinterest:
[Facebook] https://www.facebook.com/emiitoillustration
[Instagram] http://instagram.com/emi_ito_illustration
[Twitter] https://twitter.com/emiitoillo
[Pinterest] http://www.pinterest.com/emiitoillo
Read more